La Mesa – Fieldtrip April 2017
– Lenska´s Fieldtrips are in their 8th consecutive year and have helped hundreds of newbies & seasoned investors. Become one of them! –
Welcome to the Easter Weekend Fieldtrip in La Mesa – skip the egg hunt and start hunting houses with Lenska instead!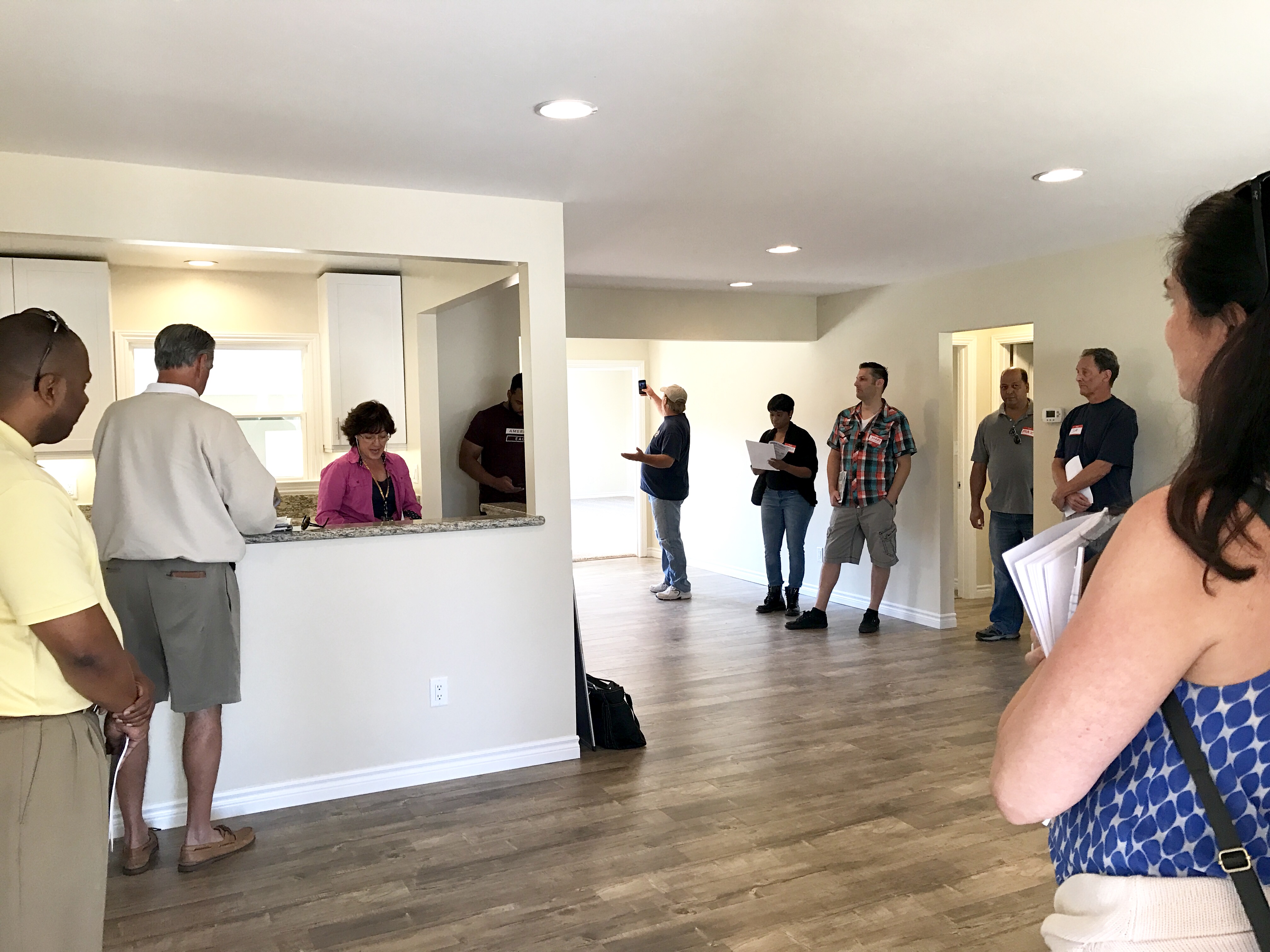 We are back at Colony Road, which we saw taken down to the stubs in January. Wow, what a turnout! The high-quality rehab done by Leo Clark impressed many of the fieldtrip attendants and even the buyer showed up to rave about her new home. Leo gave us insights on what he has done; New plumbing, electric, insulation, hard-wood flooring, the list goes on and on: He pretty much renewed everything! This has advantages to the buyer as well as the seller. The buyer will get a high-quality product and is very satisfied with what she paid for and the Rehabber will build a strong brand for himself.
Key Learning: Being known for providing high-quality finishes in the tough business of rehabbing will get you ahead of the crowd.
Then, off we went to the next property. This house was an example of how you should not rehab your project. It has been sitting on the market since Summer 2015. Although the price was lowered multiple times it has not sold yet. We quickly noticed that this was the opposite of Leo´s rehab project. They used lower quality products and chose a color scheme which was not suited for the masses. Although it had a wonderful view, it was not clear which type of buyer the house could appeal to.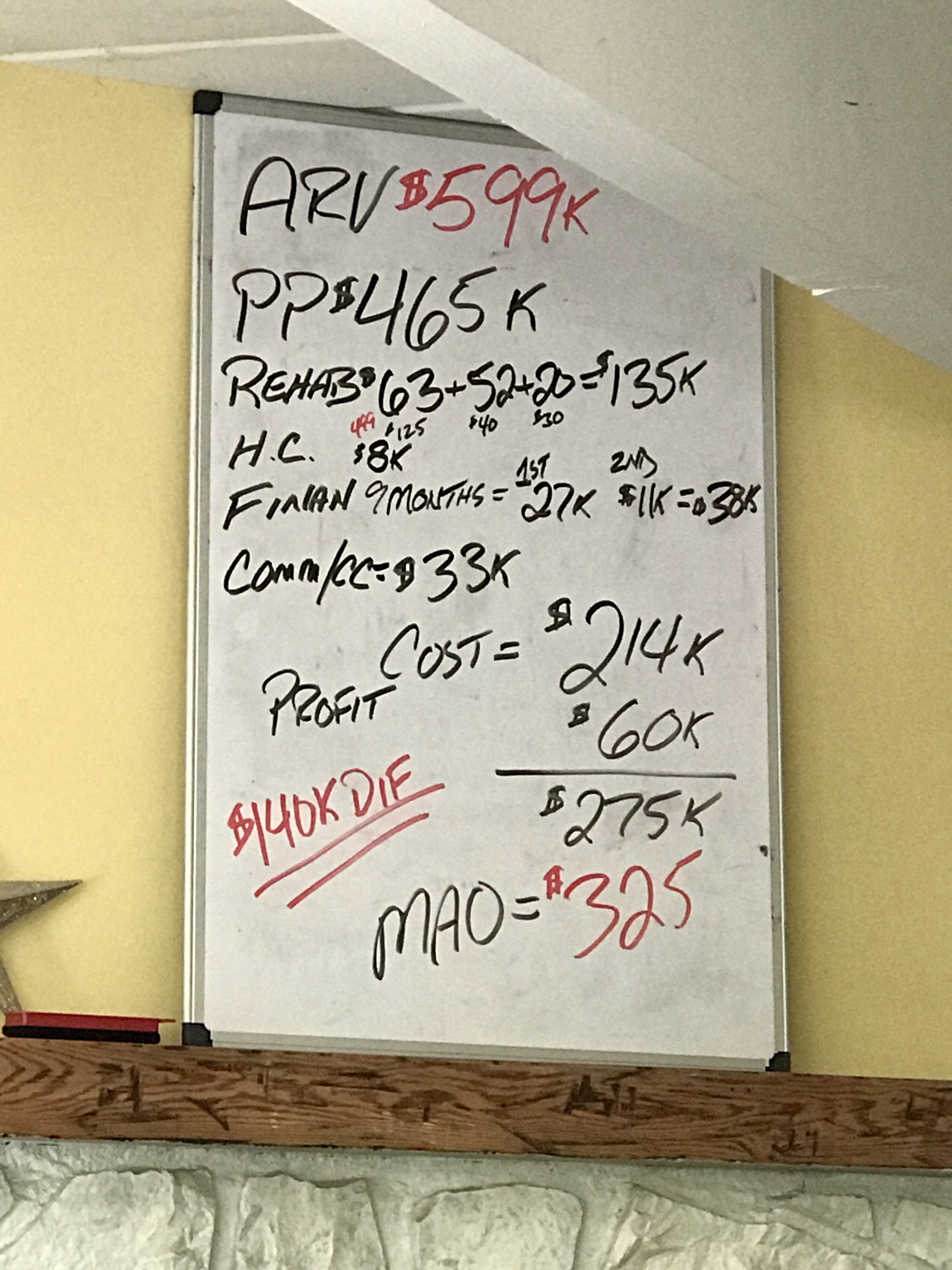 Key Learning: Be very clear on who will be your end buyer before you start your rehab project. Better cater to the masses than to a specific niche to get it sold quickly.
The next property was a 2/1 fixer with a pretty funky layout, perfect for calculating a reasonable offer price. It is recently listed for $465K and we estimate the ARV at $599K. Our total all in cost will be around $214K + 10% Profit Margin. Voila, our offer will be $325K. Way below the recent listing price. You think this offer will never get accepted? Might be, but without making an offer you won´t find out.
Key Learning: Calculate as many projects as possible and make offers even if they are way below listing price. It took Leo almost 300! offers to get his first rehab project under contract. Go out and start bidding!
The last house we visited was a REO (Real Estate Owned – property owned by a lender). Five years ago you could find many REO´s hitting the market, nowadays it is rare to find. This REO didn't need a lot of rehabbing, but it had the disadvantage of being close to the Highway and the noise was significant. Normally, there is a lot of competition for REO´s, people are going in and out, but no other investor came by during the time we spent there.
Key Learning: Factors like street noise influence the time a property sits on the market. Carefully investigate everything that influences your listing and check out similar comps.
It was time for networking, eating and drinking at Chili´s! This is an awesome opportunity to talk about what you have learned and get to know other investors, don´t miss out next time!
This is just a small preview of all the valuable information we got from this very hands-on field-trip.
Take your chance and come join us next time on every 3rd Saturday of the month. We are looking forward to seeing you there!
Mark your calendar and RSVP Today!