Home selling tips for San Diego home owners
1. Have a Simple Plan
The idea to sell your home usually doesn't start overnight. If you have time on your side, figure out what the best strategy is for listing your home for sale. Do you need a fast, may be cash close because of the condition of the home? Do you need to free up the equity in your home? You might not need to sell your home and you could check with a mortgage broker if refinancing is a good solution. Special circumstances might force you to a sell your home quickly but at a discount.
On the other hand if you are able to plan the sale of your home you'll catch a higher price. There are many things to consider before, during and after you sell your home. Take note of some general marketing facts such as houses sell faster and for more in spring time. Generally the 4th quarter is the weakest in the year, especially December in which some sellers take their home off the market.
Take a good look at your location as it takes longer for a home to sell if located on a busy street or has no garage.
Your approach might change depending on the home being a personal residence or investment property.
Schedule appointments with other professionals such as property manager, financial adviser, CPA, lawyer or elder attorney to discuss the consequences of the sale.
Certainly it is never too early to speak to a Realtor!
2. Give your home some Tender Loving Care (TLC)
Prepare your home for "show time". Do necessary repairs and take care of small fixes to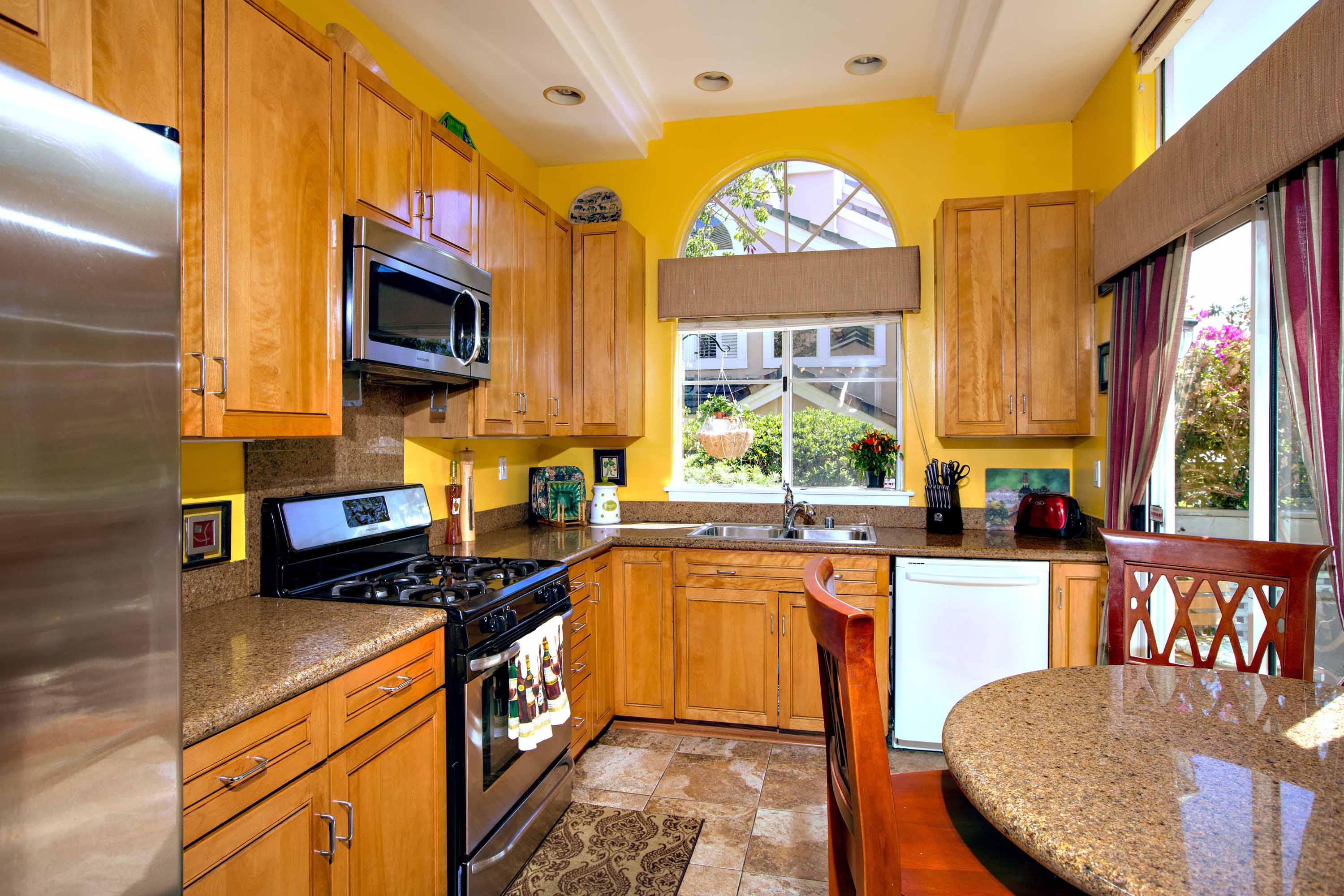 make the home more appealing. Curb appeal sets the tone! Real pro-active sellers will get a home inspection to learn about safety issues and possible maintenance items. And then, there is more: paint or no paint, replace flooring, blinds, door knobs, fixtures, light bulbs etc. You might want to compare your home to the other homes on the market and decide how far you want to take your sprucing up. Consider less in a seller's market and try to make your home stand out in a buyer's market. Consult with us. We are happy to do a walk-through with you to give your pointers to make your home shine!
3. Picture is worth 1000 views
This is the sticking point with many home sellers. They are in love with their home and think everybody else will be. Since when do we all drive the same car? When selling a car do you leave your coffee cup, golf towel and emergency power bar on the front seat? Same when selling your home: REMOVE ALL PERSONAL ITEMS, COLLECTIONS, MEMOBILIA AND AWARDS. I know you have worked so hard for your achievements but you don't want a buyer checking YOU out . You want the buyer to check out YOUR HOME. Spending the money to clear out clutter and have your home professionally staged can boost both curb and walk through appeal resulting in a higher sales price.
Stage to sell which starts with prospective buyers looking at the photos online. Make sure the photos are professionally taken , less is more and keep a light on for buyers!
4. Is the house priced right?
I assume there is not much today's real estate websites can't do, they zestimate, they offer smart pricing tools and provide you with a value according to their algorithm. Pricing your home will be the MOST CRITICAL part of marketing strategy. Do research and educate yourself. Look at homes that have sold in prior months. Compare the location, features and condition to your home. Make a list of improvements, features and benefits of your home and location. Don't forget to put yourself in the buyers shoes! You have heard the phrase location, location, location so consult with a local real estate agent who knows the neighborhood and the nuances of price differences between communities.
5. Interview with the Realtor®
There are a few myth in the real estate industry that need to be debunked.
Is the #1 agent giving your home 1st priority? Hiring the #1 agent usually means you only see #1 one time during the listing presentation and then you'll deal with his/her team members. You might want to choose somebody not as busy if you believe your property needs personal attention. Just be clear on your expectations and be upfront what you are looking for. Remember you want the agent to get the job done for you!
No experience – no good? Not at all – less experienced agents will work hard for you and are highly motivated to impress you and sell your home fast. They have their future pending on putting your home as a pending sale!
Big names in real estate will pay big for you? Wrong- there is no correlation between a well known real estate company such as Keller Williams, Berkshire Hathaway selling homes any faster and for more money than independently owned brokerages. My theory is that buyers don't really care who the listing agent is , they are wanting a deal. The exception might be the luxury market and relocation real estate services. Sellers want the prestige of a high-end homes realty company to keep up with the Millers. Real estate companies with offices throughout the 50 states will have a referral for you in the town you are going to move to. On the other hand, real estate websites are selling you the local expert. Check out their digital profile and you might think they are a better fit for your home purchase.
Pocket listings – who's pocketing? In our current sellers and tight inventory market some real estate agents market your home as a pocket listing rather than marketing your home on the MLS (multiple listing service). The only person's pocket this is working for is the agent's pocket. Right now several homes receive multiple offers when home is listed on the MLS which is the MOST ADVANTAGEOUS way to make sure you are getting the highest & best offer.
Bait & switch – how many listings did I not get because I didn't tell the home owner what they wanted to hear: your home will sell for $750,000 when comparables suggested $680,000. Some real estate agents know that if they tell sellers that they can sell their homes for more they will get the listing. If the list price is too high, then the home will sit on the market until a willing & able buyer makes an offer. Listing a property within a certain price range makes a lot of sense if you want to catch a higher offer.
Flat-fee or flatlining – There are other business models besides the traditional brokerages that offer a flat fee or as-needed menu. I assume under certain circumstances this service has its place but here in California where the purchase agreement alone is 12 pages and we have over disclosure forms, a real estate professional is worth every penny. My words of wisdom: do you really want to leave one of the most important financial decisions in the hands of somebody passive on the sidelines- your sale might just flatline.
6. Signing on the dotted line
Make sure you understand the listing agreement. You as the seller have choices,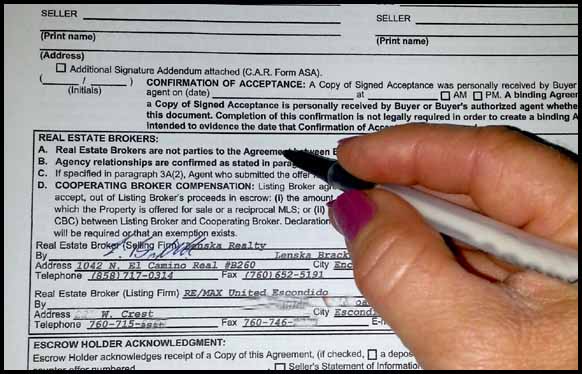 responsibilities and many parts of the listing agreement are not set in stone . Time lines, commissions and listing period are negotiable. Standard commission is between 5-6%, listing period between 3-6 month for standard homes in the San Diego market. There are other business models that offer a flat fee or as-needed menu. You as the seller have to complete many forms but I wanted to point out one very important disclosure form: the Transfer Disclosure Statement. (A Real Estate Transfer Disclosure Statement (TDS/MHTDS) is a form required by Civil Code § 1102.6 (for real property) and 1102.6d (for personal property manufactured homes and mobilehomes) for the purpose of disclosing material information regarding the property being transferred. ) This questionnaire form asks about: if seller has any reports in his possession, if seller is aware of any condition that may affect the value of the home, what type of equipment is in the home and any other material facts that you know of and are pertinent for the buyer which you are urged to disclose. If you don't know the answer ask for help or investigate. My legal sources tell me that a high percentage of disputes arise from this form. Sellers are encouraged to disclose any known defects in the property. The "as is" clause does signal to a buyer that the seller will not be responsible for the cost of repairing any defect. On the other hand the provision does not insulate the seller from liability for intentional or negligent misrepresentation or for failing to reveal concealed defects not apparent from an inspection.